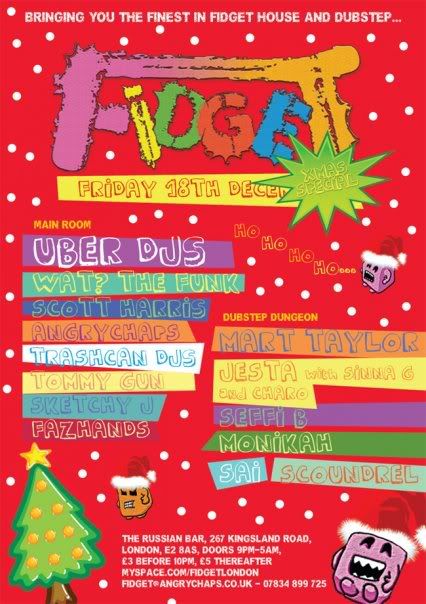 This Friday I'm going back to The Russian for my third time, the last of which I headlined the FiDGET launch party. If this party is half as good as the last you really don't want to miss out!
"Ho Ho Ho, it's the XMAS SPECIAL of FiDGET on Friday 18th December @ The Russian Bar, 267 Kingsland Road, London, E2 8AS! And this one really is SPECIAL!!!

If you've ever experienced one of our nights, you'll know we do enjoy our bass! For the Xmas Special we've put our ALL into this one to make it a super duper krazy wobbly bass driven night of FiDGET House and Dubstep!!!

17 DJs, 6 of which are duos and 2 MCs all spinning the newest and freshest Fidget and Dubstep sounds you can find! It's our last party of 2009 so let's make it one to remember!!!

In the main room residents [ANGRYCHAPS] and [TOMMY GUN] will be playing you fresh Fidget alongside headliners [UBER DJs] who are coming down from Birmingham to show you how it's done and [WAT? THE FUNK!], also from Birmingham! Will be tearing up the place with their bass heavy Fidget.

Not forgetting [SCOTT HARRIS] who played at our launch party back in September. Since then he's supported LA Boxers, Matt Cox, A1 Bassline and Count & Sinden. He's also remixed the likes of Young Nutz, Kid Komas, Greenskeepers & The Amp Jackers on labels including Bombeatz, Filthy Bitch & Freek. His set, no doubt like his last, will be top form! [TRASHCAN DJs] are back again after a storming set at their last appearance at the Russian and we've also got [SKETCHY J] aka James Loffler who had everyone chanting for more after doing the closing set at FiDGETs launch! We're also welcoming [FAZHANDS] from POW in Norwich for his debut at FiDGET.

Down in the Dubstep Dungeon resident [JESTA] will be taking care of business alongside [SINNA G & CHARO], expect a blend of terrifying Dubstep and melodic bass driven tunes while Sinna G & Charo get you hyped and craving for more! [MART TAYLOR] will be down to get you swaggering around with his selection of fine Dubstep and [SEFFI B] who, as always will bring you his finest in beats, bass and breaks.

[MONIKAH] the man behind Educate your mind will most definitely be doing that when he's on. Expect to hear fresh sounding Dubstep from this guy. [SAI] of Upper Playground will be doing his thing and making sure you're all up and jumping with a selection of beats that will make you wobble! We also have [SCOUNDREL] of Rough Tempo with his first appearance at FiDGET showing you what he does best with Dubstep!

Visualisations will be on display showing crazy clips from all over the place, expect to see anime, manga, action scenes, cars blowing up, rollercoasters, circus fun, christmas clips and general madness ! They've been a success so far and we'll continue to bring you visuals that won't dissapoint!

So grab ya santa hats and bring your little helpers down to the Russian bar on Friday 18th December coz THIS ONE'S GONNA BE MESSY!!!!!"
FREE FiDGET MIX FROM UBER DJs


http://www.speedyshare.com/files/19779995/UBER_DJS_-_XMAS_FIDGET_MIX__CONTINUOUS_.mp3