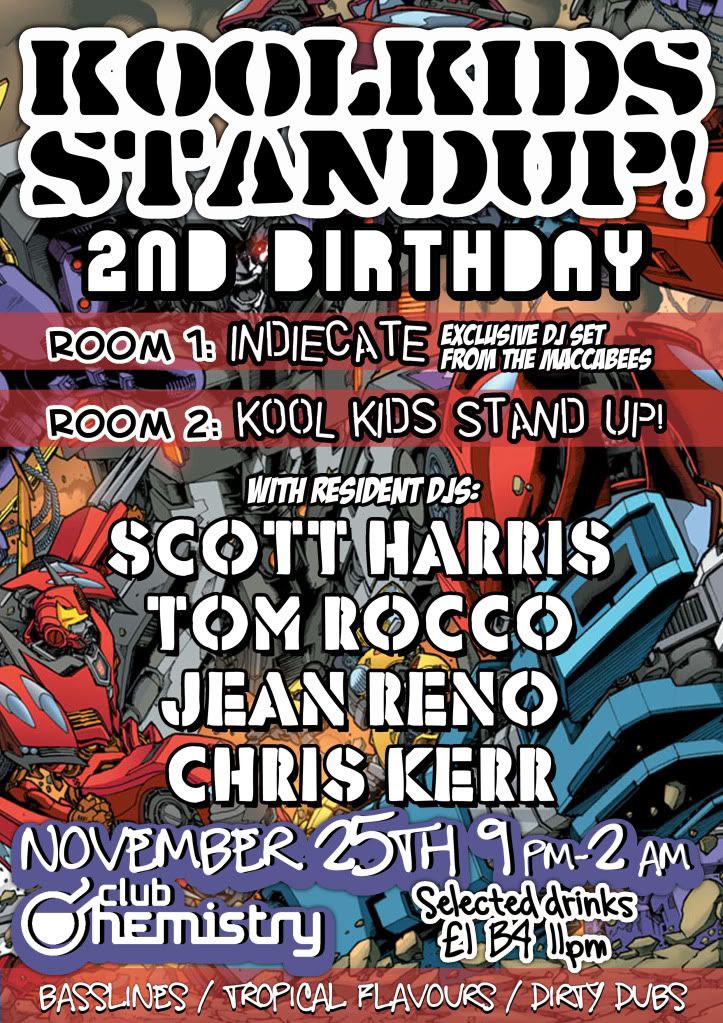 The KOOL KIDS crew are back for another month but with a change of venue for the 2nd Birthday. They are playing the 2nd floor at Club Chemistry, Canterbury for the weekly indie night; 'Indiecate', where the Maccabees are playing an exclusive DJ set in the main room. If tropical beats, dirty dubs and a bit of drum & bass are your thing then you don't want to miss this!
www.facebook.com/event.php?eid=157180014324594
To celebrate, I've made a mixtape which includes a lot of the classic tracks that I've played over the last two years at KOOL KIDS parties.
PART ONE: www.mediafire.com/?7347vk3w05u7k80
In The Heat of a Disco Night - Arabesque
I Think I Like It - Fake Blood
London to Paris - Mowgli
I Love U (Bart B More Dub) - Larry Tee
Bangkok - Boris Dlugosch
Amsterdam (Rip Tide Mix) - Jennifer Delano
Warp 1.9 - The Bloody Beetroots, Steve Aoki
United Groove (MJ Cole Remix) - L-Vis 1990
Lemon Head (Hijack Remix) - Clark Able
Positif - Mr Oizo
Vuvuvu - MSTRKRFT
Get Off (Jack Beats Remix) - Switch, Diplo
London Town (Foamo Remix) - Man Like Me
Skid (Touche Remix) - Wekan
Let Me Back Up (Crookers Remix) - Don Rimini
Worry About It Later (Switch Remix) [Edit] - The Futureheads
Hustler (Mele Remix) - Shab Ruffcut
One (Congorock Remix) - Swedish House Mafia
Centavo - Foamo
I Got You Dancing! (Jack Beats Remix) - Lady Sovereign
Elephant 1234 (Reset! Remix) - The Count & Sinden
The Dozens - Fake Blood
Superman - Lee Mortimer, Foamo
Organ Grinder (The Count Remix) - Trevor Loveys
PART TWO: www.mediafire.com/?i91fe792nvcfyz4
UFO (K-Hole Riddim) - Jack Beats
Blau! (LA Riots Remix) - Laidback Luke, Lee Mortimer
No Party For Old Men - AC Slater
Hip Rave Anthem - Rico Tubbs
Hardcore Girls (HeavyFeet Remix) - The Count & Sinden
Under The Sun (Herve Remix) - Kidda
Fagins Hole - Escobar & Vito
Where Is It? (Aniki Remix) - Blatta & Inesha, Gigi Barocco
The Cannock Wobble (Bill Eff Remix No.2) - Will Bailey, Wongo
Its What You Do Me (Jack Beats Remix) - Steed Lord
Doggy Style (DJ Bam Bam Remix) - Calvertron
One Last Time - HeavyFeet
Grifta - Calvertron vs. Itchy Feet
Hallucinate - Audiostalkers
Ein, Zwei, Polizei (Mustard Pimp Remix) - Mo Do
Dibby - Kry Wolf
So Sick - Philipe De Boyar, Lars Moston
It's Going Down - Lee Mortimer, Foamo
Drop The Pressure (Jack Beats Remix) - Project Bassline
Nine To Five (Rico Tubbs Remix) - Boltan
Move Higher - Sub Focus
www.clubchemistry.co.uk